Your gift of life is at the top of someone's wish list.
There were thousands of people across the country who depended on donated blood this year, and Australia's blood donors were there for them. That's pretty special.
But the year isn't over yet! There's still time to change more lives, or change lives for the first time.
Give blood in December and get a limited-edition festive bandage designed by Madeleine Stamer (it's our little way of saying thank you).
Meet the artist: Madeleine Stamer
"My bandage design literally says 'thank you', and I mean it from the bottom of my heart."
– Madeleine Stamer
Madeleine has been a blood donor (and fan of Lifeblood's snacks!) for years now. That is, when she's not busy making ceramics, illustrating, educating, painting, and bird watching.
We're grateful she found time in her busy schedule to design a festive bandage for us — and she's just as grateful in return.
"As we inch to the end of another year it's my way of saying thank you to other donors and to the wonderful caring staff who always make me feel at ease when giving blood."
"A few friends and family members have required blood transfusions. I can't even begin to fathom what they've had to endure. I know that each and every one of them were so grateful to be given a second chance and they very much value the importance of blood donations."
Madeleine designed the True Colours bandage to put a smile on the dial of other donors.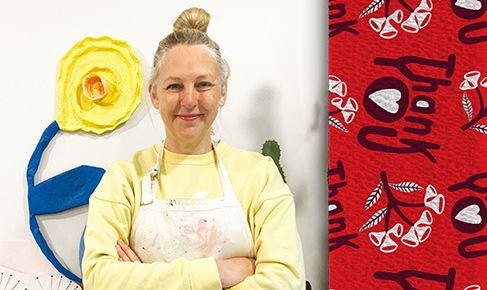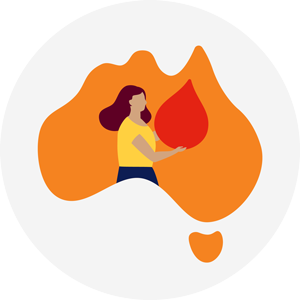 More than 500,000 people generously gave blood this year.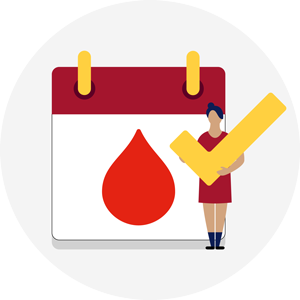 Around 135,000 donations are needed in December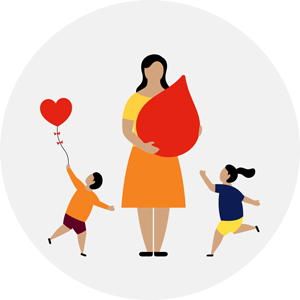 Chemotherapy, accidents and births don't take a break for the festive season — and neither does the need for blood.

Win the print with @lifebloodau
When you have this limited-edition print signed by Madeleine on your wall, you'll always remember how grateful blood donors are to you. To be in the running to win:
Post a photo to your Instagram account showing off your post-donation artist bandage.
The photo shouldn't show needles or blood (they can make people a bit squeamish!).
Tag our official Instagram account @lifebloodau in the image and use the hashtag #lifebloodau
You must be following @lifebloodau to enter
One winner will be selected and will be sent a limited-edition signed print.
We'll notify the winner via private message on Instagram and share your pic to our account.
Competition opens Friday 1 December and closes Sunday 31 December 2023.
T&Cs can be found here.