Our history goes back more than 90 years, and it started with blood. Scroll or swipe through the years, and see what we're building towards.
1930s
By the late 1930s we had figured out how to store blood outside of the body for days.
By using refrigeration, we no longer needed to collect blood on demand during an operation, but could bank blood in advance.
That meant we could supply blood to the Australian Government and Defence Forces during World War II, which began in 1939.
A side effect of the war was that Red Cross's blood services around Australia grew rapidly, with tens of thousands of Australians donating blood to support troops on the frontline.
And so, the Red Cross National Emergency Blood Transfusion Service was born (it was a bit of a mouthful).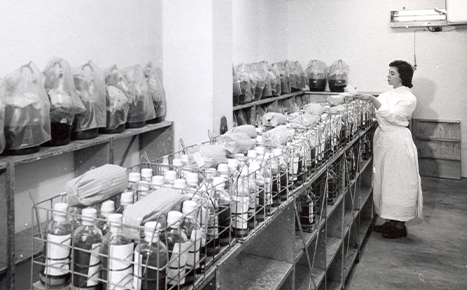 1940s
The 1940s was a huge decade for us: plasma discoveries, unprecedented demand for blood, and the beginning of mobile blood banking.
We borrowed a technique founded in the USA which unlocked new potential for plasma. Now, we could send thousands of litres of blood (as serum and dried plasma) to troops overseas.
Our first mobile blood unit was a Red Cross truck with an ice chest for blood and serum, and two trailers with ice-making, sterilisation and distillation equipment.
Sadly, it didn't last long — it was travelling overseas when its ship was captured by the Germans in 1940. These days, we have 38 mobile donor centres visiting over 1,000 towns every year.
By the end of the war, record amounts of blood were being donated and we were working across all states and territories except ACT. Blood transfusions had become standard in most medical operations and we were having trouble keeping up. Wartime donations had dried up, so we started lobbying state and federal governments to help us keep saving lives.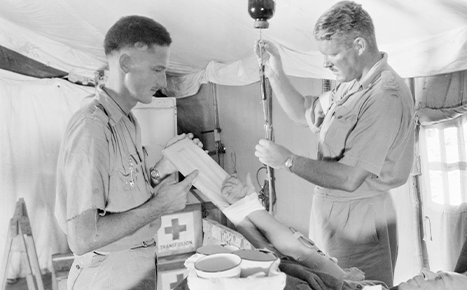 1950s
Thanks to medical advances in surgeries, demand was higher than supply.
We had to shift our focus to getting more donors in — which we did, with a lot of success. It was also an exciting time for medicine and research.
We collected donations that made ground-breaking surgeries possible, and provided the plasma to treat people who had been exposed to diseases like chickenpox and measles. We worked on research to save the lives of babies with a blood incompatibility, and offered aid overseas.
As a country, we were still reeling from the financial impacts of World War II. It was an uncertain time for our state divisions, who each had different funding arrangements.
Towards the end of the decade, our lobbying resulted in greater financial stability for our services around Australia, with a new funding model: Commonwealth funded 30%, states 60% and the Red Cross 10%.
This is the foundation of how our funding works today.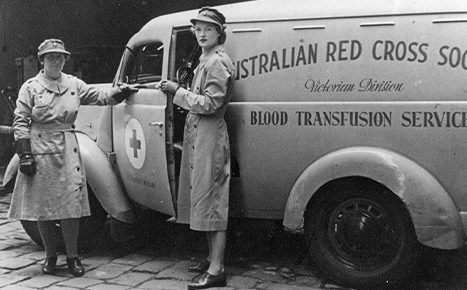 1960s
We could do more for Australia's healthcare than collecting and distributing blood.
We supported the work of the Commonwealth Serum Laboratory (CSL) and their research into the clotting factors of plasma.
The discovery of anti-haemophilic globulin (AHG) was life-changing for haemophiliacs, and Australia was both the first country to produce it and had the highest production per capita in the world.
We quickly realised our know-how (and independence from hospitals) put us in the perfect position to manage tissue typing.
The first laboratory in South Australia soon followed by New South Wales, Victoria and Queensland. Our record keeping and research was the foundation of the nationwide organ-matching service that we have today.
One of our most exciting developments was the ground-breaking Rhesus antibody project which, in 1967, began preventing deadly haemolytic disease in newborn babies with donated plasma.
Today, over two million Australian women have welcomed healthy babies into the world thanks to anti-D.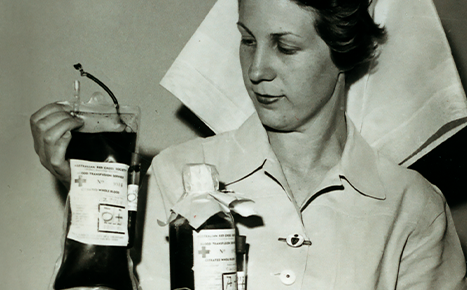 1970s
The invention of modern computers changed the way we worked.
Through our tissue typing and cross-matching work, hospitals were having more success with organ transplants. Along with success came an increase in demand to run tests and crunch data, and our workload was outgrowing our computer facility at Sydney University.
In 1972 Dr Helen Bashir, medical director of tissue typing, secured funding from the Health Commission for one of the first computers in New South Wales — a dual tape drive PDP-8F minicomputer which cost the equivalent of a modest house.
The computer allowed us to create a weekly register of renal patients waiting for transplants which we shared with hospitals nationally and in New Zealand.
This list was the basis of determining priority for transplants. We could also store donor records and produce automated reminder letters, daily blood inventory reports and more.
During the 1970s we also introduced a new test to screen all blood for hepatitis B.
As science improved and the population grew, so did the need for blood products. So, the marketing team in the 1970s launched a campaign: 'Blood donors love life'.
The plan was to change blood donation from something medical to something much more accessible (and far groovier). We started to move away from the history of wartime and the Red Cross Society. We were beginning to pave our own way.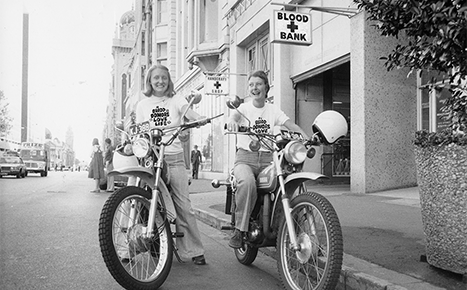 1980s
For the first time, we had to show Australians that donating blood is safe.
Australia recorded its first case of AIDS in 1983. While our quick response to this new threat minimised recipient infections, misinformation in the early days changed blood donation forever.
Many donors stopped coming in. The risk was only for recipients of infected blood, but the damage had been done. This new question around blood being 'safe' also affected the frequency of blood being used in surgery.
Re-evaluating how blood was used in hospitals saw the birth of Patient Blood Management. Doctors and surgeons now needed to reduce the need for a blood transfusion and use special machines to 'recycle' a patient's own blood during surgery where possible.
In 1983, the New South Wales Health Commission appointed us as the coordinator for kidney transplantations. The New South Wales Blood Transfusion Service linked all the states (except Western Australia) into our central tissue typing computer to make the first steps towards a national renal transplant program.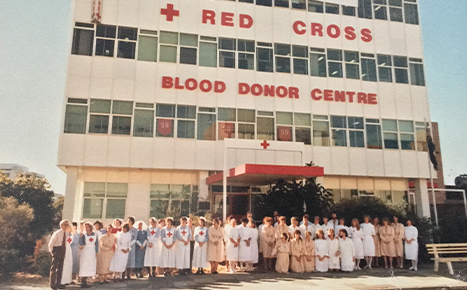 1990s
An exciting new era was born in 1996 as we became a national service.
The 1990s were a great time for unity in Australia: the Victorian Football League became the Australian Football League, and we merged our state and territory blood services into a national service.
Jim Carlton was the secretary-general of the Red Cross. He saw that the Red Cross carried the liability for one of the most medically complicated pharmaceutical operations Australia.
While a state-based structure had worked well in the past, the different management styles meant that the Red Cross carried legal responsibility, yet no formal control.
So, we updated our administration processes nationwide for greater reporting, efficiency and governance, and we implemented new regulations from the Therapeutic Goods Administration.
In 1996, everything came together for us to become the Australian Red Cross Blood Service. This historic decision was a major step forward in improving our blood service which was already one of the best in the world (and still is).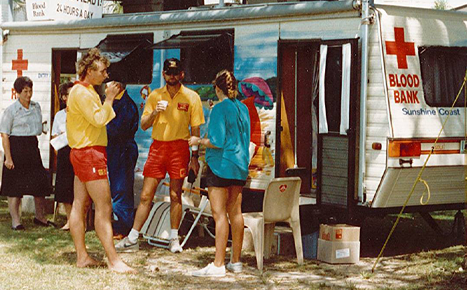 2000s
With the dawn of the new millennium came new technology and new opportunity.
We took a national approach to how health providers and clinicians managed the use of the blood products we collected, working with them to understand that blood is a rare commodity.
Through our work, we were able to improve transfusion efficiency. We used new technology for smarter tracking and to improve our processes, which is still a high priority for us today.
We also used our resources to educate our stakeholders more. That means hospitals and medical practitioners as well as donors.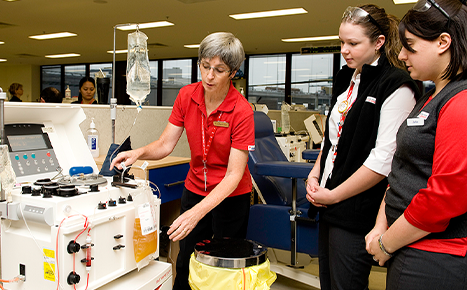 2010s
We made a greater contribution to Australian healthcare.
The demand for plasma continued to grow throughout the 2010s — it's no surprise, given its vital role in many life-saving medical treatments.
It's important we secure our local supply. And so, we established two dedicated plasma collections centres, one in the ACT and one in Townsville, Queensland.
In 2018, we saw a new opportunity that we couldn't have been more excited about: milk donation.
We used our experience and expertise to collect and pasteurise donated breast milk and distribute it to neonatal units, specifically for premature babies.
We started out in New South Wales and South Australia — with other states soon to follow.
Using our infrastructure for milk donation created even more opportunities to make a greater contribution to Australian healthcare. To recognise this, in November 2019 we changed our name to Australian Red Cross Lifeblood.