Guiding our steps.
Lifeblood recognises the guidance those before us have given, to pave the way for us to take the paths we can take today and into the future.
So, we've teamed up with Archibald Prize-winning Australian artist and musician Blak Douglas to celebrate the 2023 NAIDOC Week theme For Our Elders, recognising the traditional owners of the lands across all Nation and the strength we draw from the knowledge and experience of generations before us.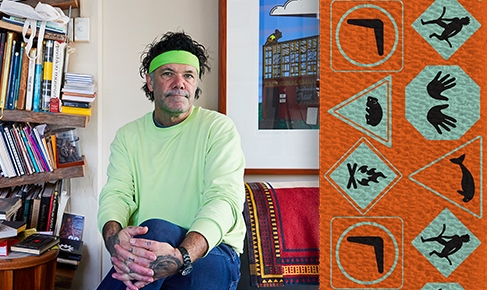 Meet the artist: Blak Douglas
"It warms my heart to think that; despite our creeds, demographics, religious or political beliefs, we all share this fundamental human commonality." Blak Douglas.
Blak Douglas (born Adam Douglas Hill) is an Aboriginal Australian artist and musician from the Dhungutti people in the Macleay Valley of northern New South Wales. A self-practiced painter influenced by the study of Graphic Design, in 2020 Blak became the second Indigenous artist in 101 years to win the Archibald Prize for his portrait of Wiradjuri artist Karla Dickens.
Blak has also seen both sides of the blood donation coin: as a donor and as a recipient. When he was just seven, a usually straightforward tonsil removal went, as he says 'pear-shaped' when his vein was nicked, causing bleeding.  "Being a bad bleeder, the medical staff struggled to replenish the blood I was losing." Blak was ok, thanks to the speedy response of the medical team and donated blood, but the experience led him to become a blood donor later in life.
"It's a simple voluntary offering to the world which can aid the survival of someone," he says of donation. "I always think of the jarjums (children). Imagine your offering nurturing the survival of a future Archibald Prize winner!"
Blak's vibrant and thought-provoking True Colours design is, as he says, "based on a series of reinterpreted road signs in my stylised way of 'acknowledging country'. I've always imagined the opportunity to hijack the Roads & Traffic Authority design department to create educational cultural motifs for drivers to enjoy."
Post a pic to @lifebloodau on Instagram to win a signed Blak Douglas artwork.
Want an Archibald Prize-winner's artwork on your wall? To go in the running to win a limited-edition signed  print of the bandage design by Blak Douglas:
To go in the running to win:
Post a photo to your Instagram account showing off your post-donation artist bandage
The photo shouldn't show needles or blood (they can make people a bit squeamish!)
Tag our official Instagram account @lifebloodau in the image and use the hashtags #truecoloursau #lifebloodcomp
You must be following @lifebloodau to enter
One winner will be selected and will be sent a limited-edition signed print
We'll notify the winner via private message on Instagram and share your pic to our account
Competition opens Sunday 2 July and closes Sunday 30 July 2023
T&Cs can be found here