On a roll with 600 donations
What started out as friendly competition with a family member, resulted in 600 life-giving donations by blood donor and skateboarder, Bruce.
Aunty Mary's challenge
More than 30 years ago Bruce walked into the Brookvale Oval mobile donor centre to give blood. His motivation for donation? A dare from his Aunty Mary.
"My Aunty Mary told me she had done 70 donations, and that I would never catch her. Smart lady that one and the challenge was accepted," said Bruce.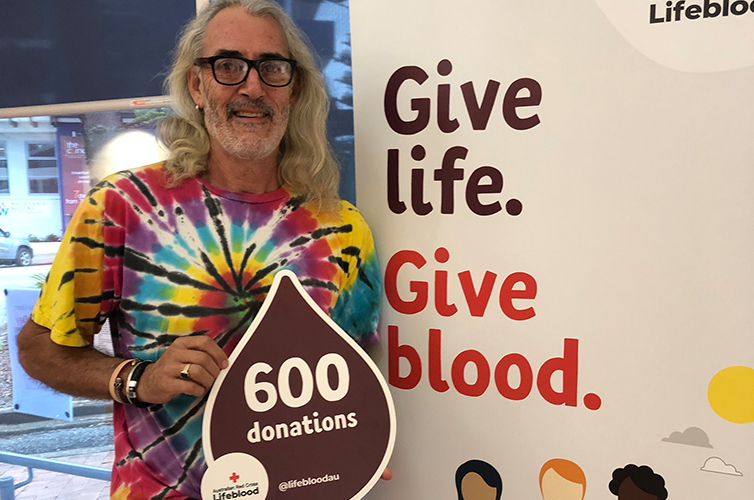 Fast-forward to the present, and you might see him skateboarding the streets of Port Macquarie every fortnight to donate.
"She is now 85 and had to stop donating a long time ago, but if not for her, and having met people along the way who regularly needed blood transfusions, I would not have reached this milestone," he said.
---
One of 60 to reach 600 at 60
At 60 years of age, Bruce became the first person from Port Macquarie — and one of only 60 blood donors across Australia — to reach the extraordinary milestone of 600 blood donations.
Puzzled by the numbers? Here's some more. Bruce has O positive blood type, which is in high demand from hospitals and supplied to more than 50% of Australian patients.
His 600 donations have helped save the lives of up to 1,800 people, including new mothers and babies, cancer patients, and trauma sufferers.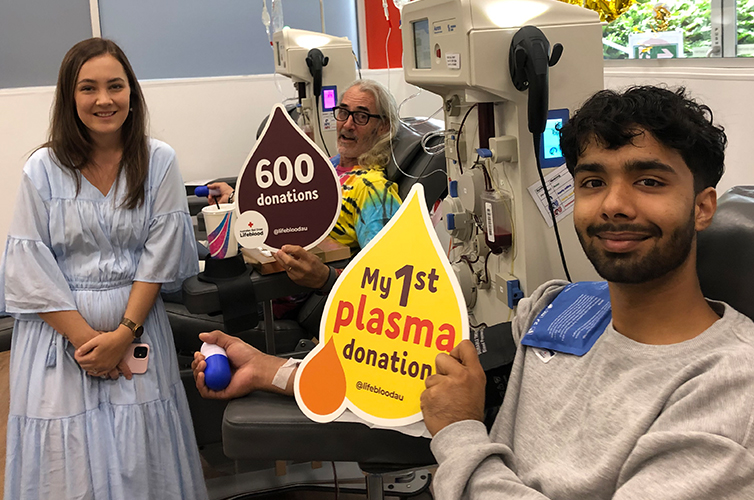 He has some friendly advice to all those who are considering donating and to first-time donors like Swatip Dahal pictured above.
"The vampires at [Lifeblood] are lovely and it doesn't hurt much at all, so I encourage others to put something back, roll up your sleeves and save a life."
To commemorate his milestone, Bruce was also thanked by a local blood recipient named Taylor, who needs regular transfusions of plasma to treat a rare autoimmune disease.
"I have received plasma every 4 to 8 weeks since the age of 4, this liquid gold has allowed me to do many of the things people take for granted such as working, being able to plan a future, get married and have a beautiful family," said Taylor.
---
Smells like team spirit
Taylor advocates donating blood and helped share this life-giving feeling by creating a Lifeblood Team at her workplace, Elders Real Estate. What started as a little competition has turned into full support from the Elders Lifestyle Group. Staff are encouraged to donate during work hours to remove the stress of finding time in their already busy lives. Working with the community, the group is known for doing what they can to make a difference.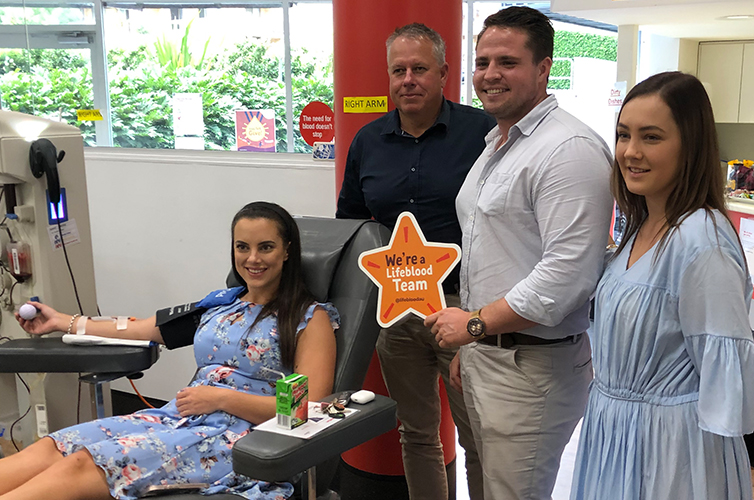 Taylor's team was extremely moved when she shared her story as a recipient, and they're all very aware of the need for plasma treatments. They're also regular participants in the annual local Port Macquarie Real Estate blood challenge.
In 2021, Elders made 393 donations nationally with 45 of those on the mid-north coast.
 
---
Inspired to beat Bruce's record? Book in a donation today.
Or, if you've got a crew that's as excited as you, see how you can donate as a group.