True Colours 2021
At Lifeblood we believe giving blood is always in style, because Australia's need for blood never stops. And right now, we need you to share your life-giving style with a True Colours bandage. Designed by some of Australia's favourite artists, these limited-edition bandages are the ultimate life-saving accessory. To grab yours, make sure you book a donation before 14 November.
Share your life-giving style with the world
Meet our incredible artists
Ken Done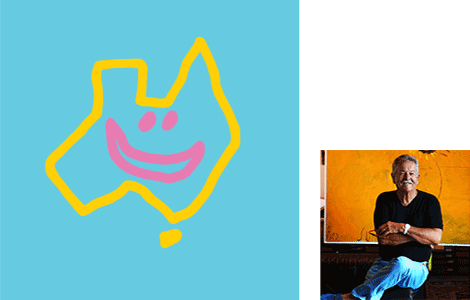 Ken Done is an Australian icon, renowned for his bold images of identity and his unique reproduction of these images on clothing, homewares and prints. Vogue once said, "You can hang a Done on your wall or a Done on yourself".
"When you give blood, you are in fact, helping all of Australia. I wanted my design to reflect that thought."
– Ken Done
 
Kaylene Whiskey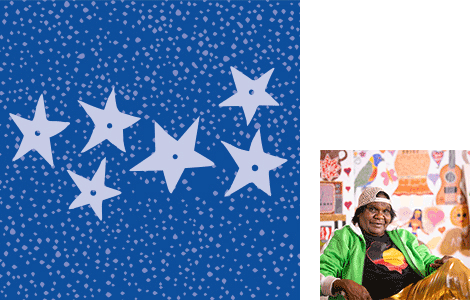 Kaylene spent her childhood steeped in 1980s pop culture. Evoking familiar gestures of the everyday, her paintings use bright colours, rendering pop stars in flat pictorial space, reflecting Whiskey's own life in rural Australia.
"Giving blood gives life and strong women give life. The night sky of my Seven Sistas painting shows community."
– Kaylene Whiskey
 
Eric Bridgeman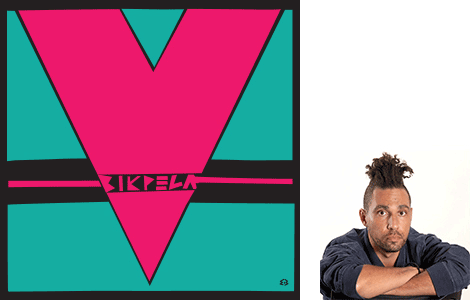 Eric Bridgeman is a multidisciplinary artist. The dominant focus of his work involves the discussion of social and cultural issues, often using the theatre of sport as a springboard for his ideas.
"Bikpela Lewa" is Tok Pisin (Melanesian Pidgin English) which translates to "Big Heart". Mountain Blue refers to the Blue Mountain seen at his mother's birthplace in the Highlands of Papua New Guinea, where in this design, a big heart grows out from."
– Eric Bridgeman
 
Frances Cannon
Frances Cannon is a multidisciplinary artist and author. They work primarily with watercolour, gouache and ink and is the founder of the 'Self Love Club' movement. Cannon's work examines ideas such as body love, sexuality and gender.
"I want people to feel peaceful and happy when they are donating blood, like a little fairy sniffing some flowers! It doesn't have to be scary! Let's celebrate giving blood."
– Frances Cannon
 
David Booth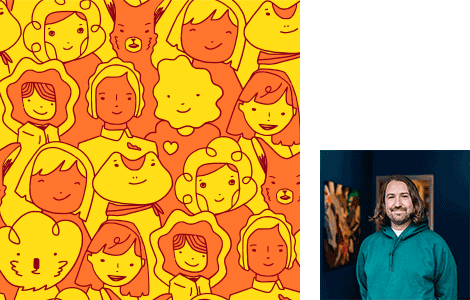 David Booth grew up in Hobart. Feeling geographically isolated, he set about constructing a universe of his mind's making. Through his art, he posited a fictional space occupied by characters and scenes from across history, fantasy, nature and his own lived experience.
 "Let's travel down this road and back again, side-by-side, together. Because we're all connected, don't you know? We've got to stand strong and we've got to share the love. Thank you for being a friend."
– David Booth

Vipoo Srivilasa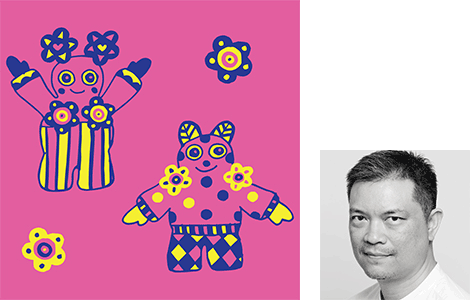 Vipoo Srivilasa's work is a playful blend of European historical figurines and Asian decorative art practices with a healthy dose of contemporary culture. His work often explores cross-cultural and migration experiences.
"I want to design something happy. A little bear with two arms up, cheering for the generosity of the donor, and hopefully putting a smile on your face."
– Vipoo Srivilasa
Instagram competition - win a limited edition signed artwork print

We're so excited about our artist designed bandages that we have six limited edition prints of the incredible artwork to give away! To go in the running to win:
post a photo to your Instagram account showing off your post-donation artist bandage
the photo shouldn't show needles or blood (they can make people a bit squeamish!)
tag our official Instagram account @lifebloodau in the image and use the hashtags #truecoloursau #lifebloodcomp 
you must be following @lifebloodau to enter
six winners will be selected and each will be sent one poster of a limited-edition print (the posters will be selected at random)
we'll notify the winners via private message on Instagram and share your pic to our account
competition opens Monday 4 October 2021 and closes Sunday 14 November 2021
T&Cs can be found here.