Daniel gives plasma for wife Kylie's life
Like many of our donors, Kylie's journey as a blood donor started when a family member needed multiple blood transfusions in 2008. Little did she know that her selfless act was paying it forward — for herself. 
When Kylie should've been facing baby cuddles, early wake ups, and the many other joys of early motherhood along with her husband Daniel, she was instead facing multiple rounds of sickness. Her GP decided it was best to check that her immune system was doing alright. Although her tests indicated low immunoglobulins (more on these later), it didn't seem enough to warrant a diagnosis. It was only nine years later, at the age of 42 that Kylie was diagnosed with Common Variable Immunodeficiency (CVID).
In case you're wondering what these words mean, in plain terms, immunoglobulins (Ig) are also known as antibodies. They're a critical part of your body's immune defence system, produced by your plasma. They recognise and bind to toxins or other foreign substances (antigens) that are produced by pathogens (think bacteria, viruses or other disease-causing microorganisms). By doing this, immunoglobulins destroy pathogens and keep you feeling well.
But what if, like Kylie, your body can't produce enough? That's where donated plasma comes in. Plasma-derived medicines are used to treat more than 50 serious medical conditions. One of these medicines, immunoglobulin (Ig), is needed by more than 14,400 Australians every month to treat acute or ongoing conditions to maintain their quality of life.
In particular, intravenous immunoglobulin (IVIg) uses antibodies taken from plasma to strengthen the immune systems of patients like Kylie to help them fight illnesses, diseases, and infections. It gives their bodies an "armour" to protect them. Many people with an immunodeficiency need IVIg therapy — while is why Australia needs more than 16,500 plasma donations each week. 
Kylie's husband and biggest supporter Daniel is also a regular plasma donor, and has been for more than 15 years. When Kylie was diagnosed with CVID, he learned all about how immunocompromised people need donations, which made his contributions even more important. With more than 50 donations under his belt, Daniel is a true hero in the eyes of blood recipients (and us!).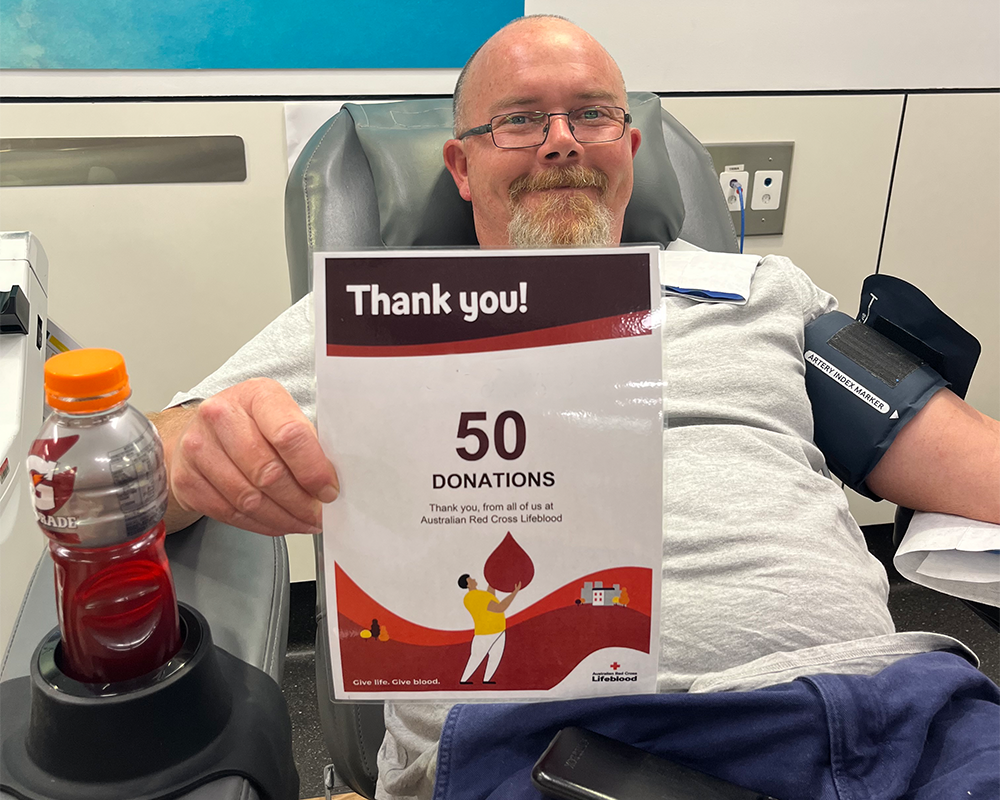 Kylie said,
"Daniel has a keen sense of wanting to help others, and blood donation is one way in which he can. He also often encourages people around us to donate so that myself and other people impacted by an immune deficiency have access to the treatment we need." 
 "Although I am no longer able to donate, I'm so proud of Daniel and his contributions. My daughter has also started donating, as she is passionate about not only helping me, but helping others as well," added Kylie.
Kylie is also a member of Immune Deficiencies Foundation Australia (IDFA) which is a national not-for-profit and leading peak body offering education, advocacy and awareness for Australians living with primary or secondary immunodeficiencies. 
According to the IDFA, every year it takes about 130 plasma donations to treat one person with a primary immunodeficiency, and one in 1,000 people are estimated to be affected by primary immunodeficiencies. Keen to support someone like Kylie? Become a plasma donor. You can also join the IDFA Lifeblood Team, and support other immunocompromised community members.