Australia says thank you — virtually
We all know this year has been very different. We've changed the ways we work, the ways we live, and now, the ways we celebrate each other.  
Typically, World Blood Donor Day and National Blood Donor Week are marked by events across Australia celebrating our incredible donor milestones. This year, with restrictions in place and the safety of our staff and donors in mind, we still wanted to thank each of these donors personally. We just couldn't do it in-person.
So we decided to think inside the box.
Celebrations in a box
If we couldn't get the donors to their celebratory morning tea, we'd simply bring it to them! We delivered packed-up parties directly to every donor who hit a milestone donation from March 2019 to February 2020, complete with tea, a biccie and BIG thank you for their efforts.
We've raised a virtual cuppa to 12,389 milestone donors for their life-giving contributions over the last year. The best bit about celebrating at home? You always get the good biccie!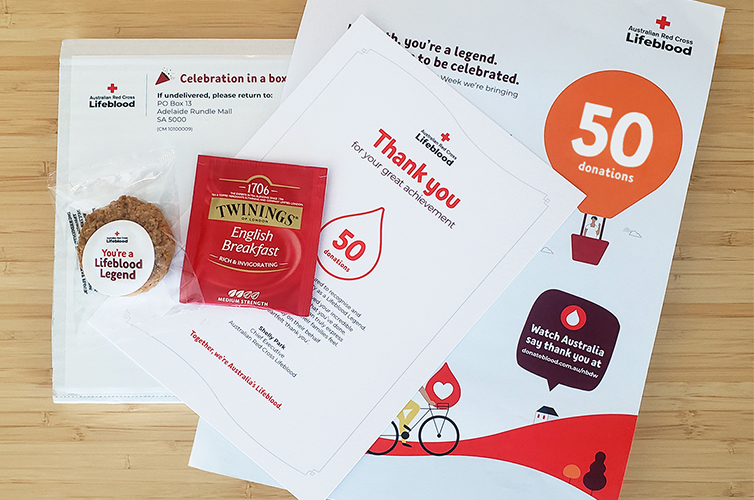 A virtual thank you x 1.5 million
We know how generous Aussies are, but even we were blown away by the amazing response to our video request for our "Life Stories" montage!
We asked people from across the country to record a video of themselves answering the question: What effect has blood donation had on your life, or the people in it, and what would you like to say to blood donors?
We were overwhelmed by powerful, moving videos from all walks of life. We couldn't have said it better ourselves — our donors are the heartbeat of the nation, and for that we thank you!