Mapping out a passion for donating
Passionate cyclist and anti-D donor Peter wanted to do something special to celebrate his 200th donation with Lifeblood. It took him almost 9 hours and 165 kilometres, but last week Peter traced his tribute to our Rh Program across the streets of Adelaide.
Peter joined our anti-D program in 2017, when his wife encouraged him to give blood in her place while she took time out for the birth of their two daughters. He's been a dedicated donor ever since, giving plasma every fortnight and even recently driving back from a family holiday so he could attend a red cell infusion session.
Peter loves to sketch, but his tool of choice is his beloved bike and his canvas the city of Adelaide. The avid bike rider traces his artwork on the streets of the city with the help of the popular app Strava, which tracks exercise. Using GPS paths to create images, Peter is a human Etch A Sketch, and his artworks stretch across hundreds of kilometres.
Peter made headlines in 2021 when he recreated the famous cover art of Nirvana's album Nevermind — which shows a baby swimming towards a dollar note — for the 30th anniversary of the album's release.
The 'sketches' take months of planning and careful mapping, and then getting up in the early hours of the morning on the big day to beat the traffic and cycle the artistic route.
Recently an image of a mother and baby alongside a giant plasma bag emerged from the wheels of the lycra-clad sketch artist. The resulting route may not be the quickest way to criss-cross the South Australian capital, but we think it's the most beautiful!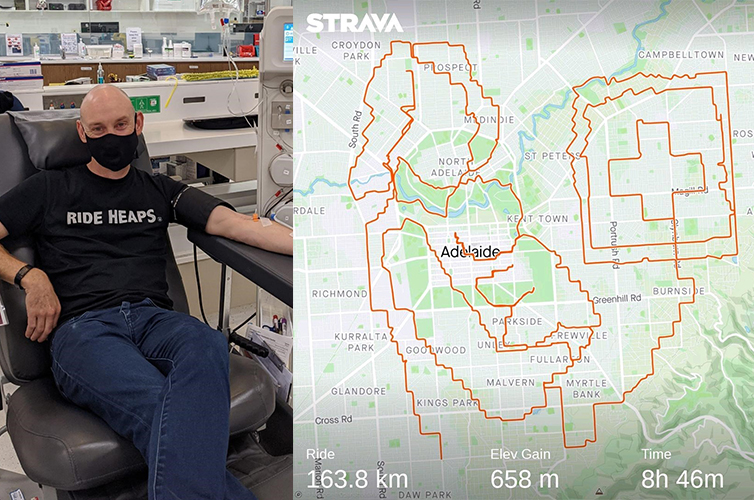 Peter's tribute to our anti-D program was designed with the help of anti-D Coordinator Jessie Wallis, and Lead Medical Officer Jackie Coughlin. With his 200th donation imminent, Peter mentioned that he wanted to create something special and together they came up with the illustration for the mapped ride.
In December 2021, Peter made his 200th donation at our Regent Arcade Donor Centre in South Australia. We extend a huge thank you to Peter for his imaginative and wide-wheeling tribute to the anti-D program — and for the 200 generous donations that have made such a difference to the lives of Australian mothers and babies.