New snacktactular treats for our donors!
The best part about donating is that warm, fuzzy feeling you get knowing that you've helped save a life. But the snacks are pretty great too! It's a reward for rolling up your sleeves and donating, and the perfect excuse to treat yourself!
We know how much our donors love our snacks, which is why we're so excited to share our refreshed refreshments menu with you.
More hot food and milkshakes
One thing our donors love is party pies, sausage rolls, and our famous milkshakes! That's why we'll be rolling out hot food and milkshakes to donor centres nationwide. So, no matter where you donate, you'll be able to feast on these delicious snacks. It's the least we can do for our amazing lifesavers.
More gluten-free and vegan options
You've told us and we've listened: donor centres will have more gluten-free (GF) and vegan options for our donors! Maybe you'd like to feast on a Mrs Mac vegan black bean chipotle burrito? Or a tasty Mrs Mac spinach and ricotta roll? We'll also have Milklab soy and almond milk for our donors to enjoy with their tea, coffee or milkshakes!
More Australian suppliers
We want to ensure we're supporting as many Aussies as possible, so we've brought on more Australian brands like Springhill Farms to supply tasty treats to our donors. Be sure to try out one of their amazing slices next time you're in the centre. You can choose from rocky road (GF), coconut and dark chocolate (GF and vegan), or scrumptious lemon and yoghurt.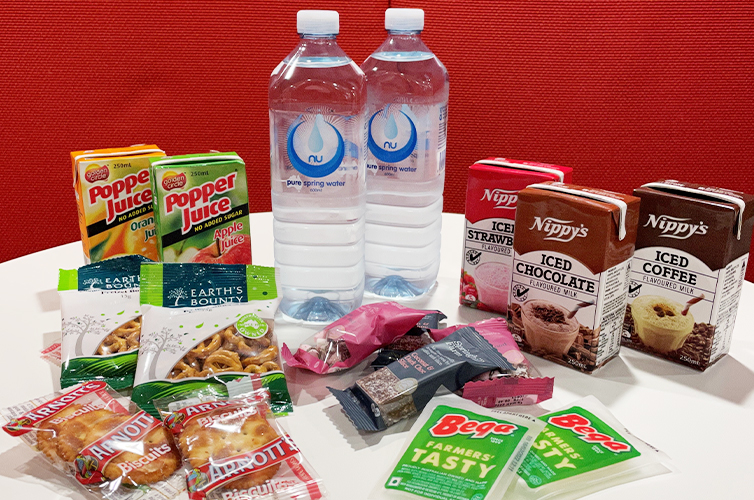 Why snacks are important
Snacks aren't just a little thank you for our amazing donors (but really, thank you!). They're actually an important part of your post-donation recovery. When you donate, your blood volume goes down a little, so it's important to be well hydrated before donating and ensure you rehydrate afterwards. By eating salty snacks, you can increase your salt intake and help restore your blood volume faster. You lose about three grams of salt with each donation, so it's important you take this opportunity to eat something salty, like chips, pretzels, or our favourite combo – crackers and cheese!
Have you got an appetite to donate?
Our new snacks will be rolling out nationwide from 6 July, and the only way to get your hands on these tasty new treats is by booking your next donation and rolling up your sleeves to give life. See you soon! Oh, and we'll make sure the pie warmer's ready!