Jacob's second chance at life
Twelve years after a near-fatal car accident with a 5% chance of survival, Jacob is determined to make the most of his life
In 2009, one day, Jacob was driving to work when his life changed forever.
A terrifying head-on collision with a truck.
A trip to the Alfred Hospital via helicopter.
Multiple life-threatening injuries.
And 36 litres of blood.
"It was the difference between life and death — I owe my life to the amazing doctors and surgeons at the Alfred Hospital, and blood donors for providing me with the red liquid life," Jacob said.
In the years since his visit to the ICU, Jacob has made it his personal mission to do all the things doctors told him he'd never be able to do again.
"They told me I'd never be able to walk again — so I walked. They told me I'd never be able to skydive again — so I did."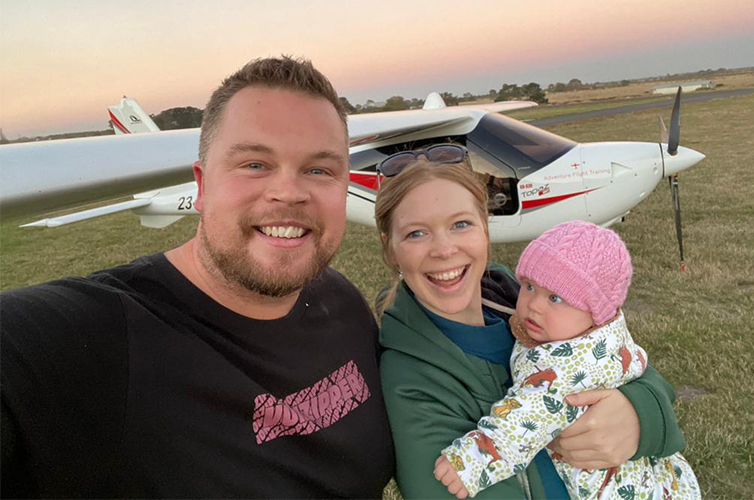 As an adventure-enthusiast, Jacob loves to sky dive, ski, snowboard, and (more recently) spend time with his little one.
Taking his achievements to new heights, he tried something he'd last tried as a teenager: he got his pilot's license (with a delay or two thanks to surgeries after the accident). Adding up to a whopping 11 years, it's no wonder he considers it his biggest achievement yet!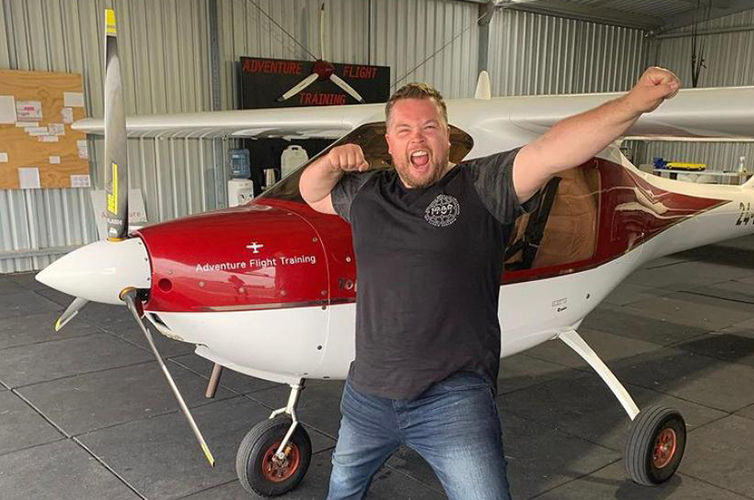 Fun fact: Jacob has completed more than 160 skydive jumps and even learned to paraglide and paramotor!
---
Coming full circle
This incredible gift that Jacob's been given — a second chance at life — is not lost on him, as he acknowledges the tremendous debt he owes to so many donors.
"When I found out that I had received so much blood, I worked out that even if I never missed a blood donation appointment for the rest of my life, I would never be able to give back the amount of blood it took to keep me alive."
Jacob sees his pilot's license as his biggest achievement, but to us, it's something more far reaching.
After being given the green light to donate again, Jacob ran a range of blood drives, encouraging others to donate when they can.
"It's a small thing, but it's the only way for me to give back and give something so others may get a second chance at life just like I did."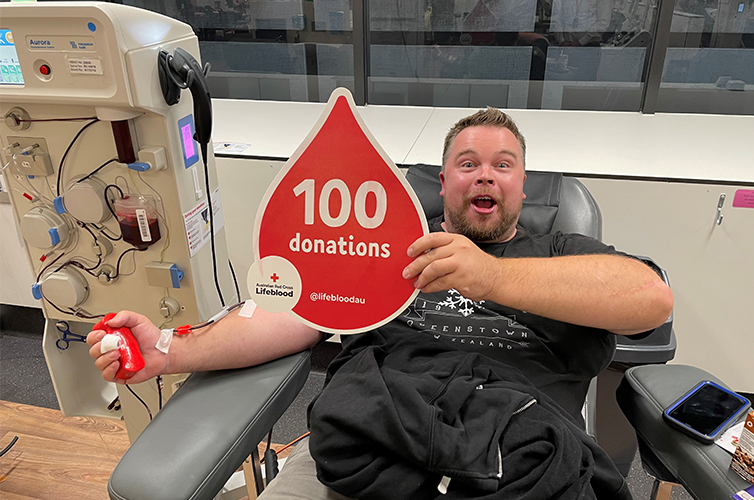 His story progressed for the better, when his body began to create high quantities of anti-D. It's something that can happen when someone with a negative blood type (like Jacob) receive high doses of emergency positive blood. Up to 17% per cent of mothers in Australia need anti-D injections during pregnancy to keep their little ones safe from haemolytic disease of the fetus and newborn (HDFN), which can be fatal and simply heartbreaking.

"There are only 35 anti-D donors in Victoria and all our plasma is pooled, which means that literally every injection has my DNA in it," said Jacob. It all came full circle when he hit the 100-donation milestone, which he says is just the beginning.
"I want to make sure that if anyone needs blood that it's all going to be there for them, because you never know who's going to need it," he said.
If Jacob's enthusiasm for life has inspired you too, book in a donation today and kick those goals!