A new Laboratory Information System (LIMS) for Red Cell Reference
On 1 February 2021, we are implementing the first stage of a new Laboratory Information System (LIMS) which will advance the capabilities of our Red Cell Reference testing services.
The introduction of a Lifeblood LIMS is a significant advancement for our organisation, and we are very excited about the future benefits it will deliver in improving the experience of our customers.
What is changing on 1 February 2021?
The first stage of our LIMS implementation will not change any of your associated processes for requesting and receiving red cell serology and molecular genotyping tests.
What will change, is the look of the clinical reports you receive from us. The content and information contained within these reports will remain the same, but the presentation of it will be different.
Please refer to the example of our new clinical report below: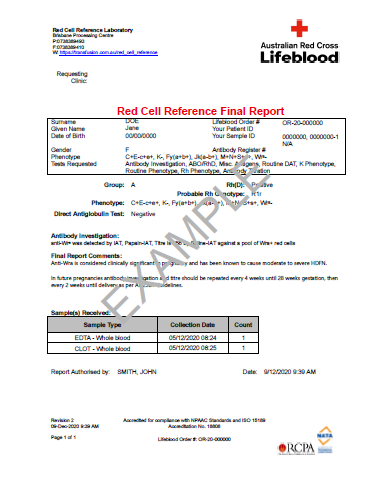 Extensive planning and testing have been undertaken to ensure an issue free transition to the new LIMS. However, we do recognise that our teams will need to go through a period of adaption to the new system, and there may be unexpected issues that arise during implementation.
We appreciate your support and patience during this phase, and ask you please contact us should you experience delays to your results, or any concerns with your reporting.
What's next?
The introduction of our new LIMS system for the management of Red Cell Reference testing is the first stage of a larger Lifeblood LIMS implementation.
Future stages of the implementation will extend to include significant improvements to the way we receive your samples, and how we issue our reports to you. We will also be bringing the management of Transplantation and Immunogenetics testing into the same system.
We thank you for your ongoing support. Should you have any queries or concerns please reach out to your local Lifeblood Red Cell Reference Manager, who will be very happy to answer any questions.