Jess's beautiful gift for vulnerable babies
Over the past 2.5 years, Lifeblood has helped feed 2,500 vulnerable babies using donated breast milk. But we couldn't have done it without the 750 mums who stepped up to donate their own milk.
When we established Lifeblood Milk, only around 25% of babies born in Australia had access to a safe supply of donated breast milk. Thanks to Lifeblood and milk banks around the country, now around 80% have access.
But this wouldn't be possible without the essential, generous and very special role played by our milk donors. Donors like Jess.
"I remember being in my second trimester when I started researching milk banks in Australia and came across what is now called Lifeblood Milk, which had only started a couple of months earlier. I was ecstatic and promised myself that if I ever had excess breast milk, however little it may be, that I would donate it to Lifeblood Milk," Jess said.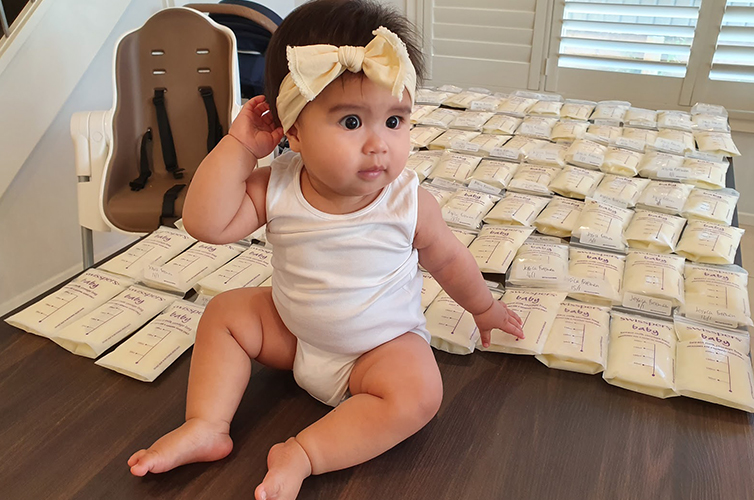 In fact, Jess donated over 170 litres in 11 months while breastfeeding her daughter, and her milk helped feed babies in New South Wales, Queensland and South Australia.
"It was such a rewarding experience knowing that my daughter and I were able to help other mothers and their vulnerable babies through breast milk donation. It was an honour becoming a breast milk donor and I would do it all over again," Jess said.
We want our donors like Jess to know how special we think they are.
"Without these amazing women gifting their breast milk to Lifeblood Milk, we would not be able to supply pasteurised donor milk to our partner hospitals to feed sick and vulnerable babies," said Milk Operations Manager Chris Sulfaro.
"Our donors are non-renumerated and donate their excess breast milk out of kindness and the desire to help other mothers who are unable to provide breast milk for their baby.
"Expressing breast milk is time-consuming, and yet these amazing women continue to donate, because they know every drop of their milk makes a huge difference to the lives of countless babies and families across Australia,"
For recipient families, this gift can have a huge impact. While a mother's own milk is the best, some mothers aren't able to breastfeed or produce enough milk to help their baby grow.
"This is where donor milk makes a huge difference — these vulnerable babies can be fed a breast milk diet which is what the World Health Organisation recommends for all babies for the first six months of their life."
When midwife Mandy and her partner Stuart saw their 8-week pregnancy scan last year they were very surprised to find two heartbeats instead of one. A healthy normal twin pregnancy followed, but Mandy went into labour early and unexpectantly.
"I knew having twins, and having such premature twins and an emergency caesarean, that my milk production might take a while to come in," Mandy explained.
Pasteurised breast milk was available at the Women's and Children's Hospital in Adelaide, reducing the stress she felt and giving Mandy time to establish her own breast milk for her tiny daughters Kora and Sage.
Become a donor 
We need breast milk donors in Brisbane, to help vulnerable babies around Australia. If you're a Brisbane Mum with 2L or more breast milk in your fridge, please visit here to see if you're eligible to donate to our newly opened milk bank in Brisbane.