How to be a Lifeblood social media superstar
We love seeing our donors' faces—not just in our donor centres, but across social media.
Whether you share Lifeblood messages and encourage your friends and family to donate, or post selfies with your post-donation bandage, there are plenty of simple ways to show your support. Being a social media superstar for Lifeblood is super easy—and super important. 
It's not bragging, it's being a blood donation influencer! Australia needs 33,000 donations every week to help keep up with demand for blood and plasma products. The more people who see our messages and your posts about donation, the more new donors we get in the door — and the more people are helped by donations.  
You'll see us posting on social media asking for donations, but we can reach lots more people with your help! Here's how you can pitch in. 
Step 1: Follow and share  us! 
The first (and easiest!) step is to follow Lifeblood on social media. Follow us on Facebook, Instagram, Twitter and LinkedIn, and you'll be the first to know important updates, like changes to who can donate or which blood types are in demand right now.
Even if you're not currently able to donate or we're not calling for your blood type, it helps just to share our posts. You never know who among your friends and family is ready to donate and just needed that extra nudge.
Step 2: Take a snap 
If you're a donor, you know the feeling of that warm post-donation glow. It feels good to know you're giving life to people that need it the most.
You can make your donation go even further by sharing a post-donation pic on social media. We love seeing snaps of donors showing off their bandage, stickers, milestone pins or even the scrumptious snacks and drinks. Just try to avoid taking a picture of the needle or blood – they can make some people nervous about donating.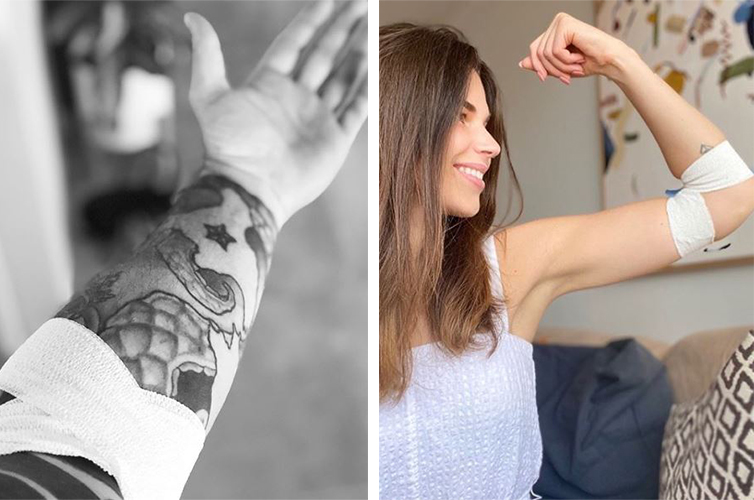 Step 3: Tag & Upload
Once you've uploaded your favourite picture make sure you tag us (@lifebloodau) so we can see your awesome work and share it on our channels! There's no reason to be camera shy: every post-donation pic helps us spread the word and save even more lives.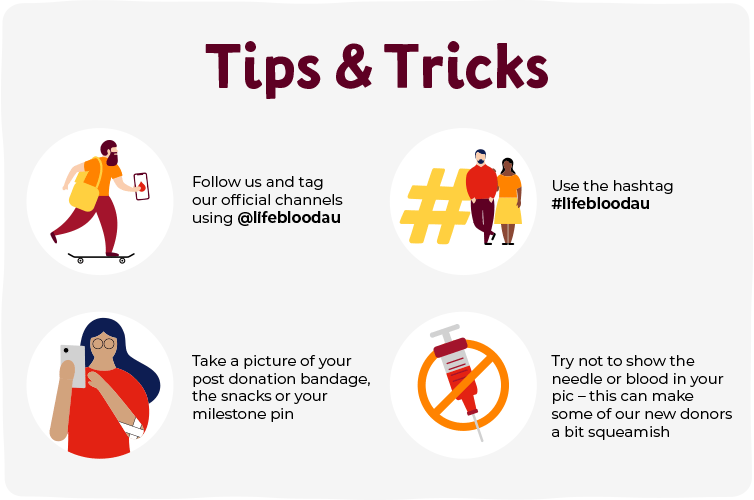 Step 4: Sign up to our Facebook Blood Donor Tool 
Launched on World Blood Donor Day this year, Facebook's new Blood Donations feature has already helped over 100 million Facebook users sign up to receive notifications to donate blood globally, increasing blood donations around the world and helping maintain blood supplies during COVID-19.
If you're aged between 18 and 65 you can sign up to receive updates on Facebook about giving blood, get notified about opportunities to donate at local blood donor centres and invite friends to donate.
Search 'donate blood' on Facebook or follow the link to begin: https://facebook.com/donateblood