When it comes to training the next generation of researchers, our Research team is eager to play their part. With our decades of experience in a range of things from blood to microbiota, it only makes sense to pass that knowledge on to the next generation (along with some tips and tricks of the trade).
Some of our senior staff act as mentors for students who are studying science, technology, engineering and maths (often known as STEM), and to international students.
Research Director Prof David O. Irving says it best, "We are trying to encourage some of the brightest emerging researchers to train in research relevant to the blood sector. It helps to strengthen our collaborations with universities, ultimately makes us more competitive, but most of all it's a great pleasure to see these bright young scientists join our team."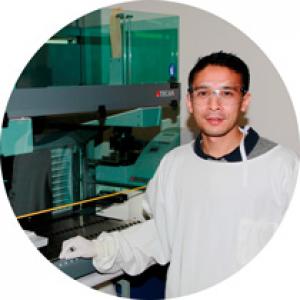 One of our research students, Ashish Shrestha, came to us from Nepal while he was working on his PhD supported by the University of Queensland International Scholarship.
During his final year of research, he was picked for I TRY IT, a global training program developed by the International Society of Blood Transfusion (ISBT) Transfusion-Transmitted Infectious Disease (TTID) Working Party. The aim is to teach young researchers to develop, review and report on research projects in transfusion-transmitted infectious diseases. Ashish was enthusiastic about his experience.
"We had an opportunity to learn from experts from the US, Germany and South Africa. The program included webinars and face to face meetings at ISBT regional conferences in London and Bali."
"I believe I have chosen the right place to get involved in research. Lifeblood is an amazing place to explore ideas. With the availability of experts, and friendly and co-operative staff, it's certainly an ideal place to learn and develop your ideas and skills."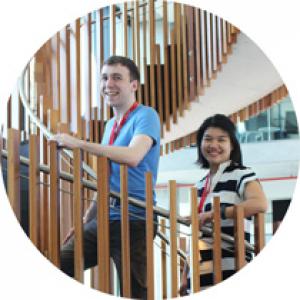 Htet Htet Aung and Ben Wood
After a year of practical training at Lifeblood to complete their university degrees, Htet Htet Aung and Ben Wood have stepped up and joined the team as full-time employees.
"In my country the education system is not really advanced, and I realised that in Australia I could have more opportunities and be quickly independent," she said.
Since arriving in Australia from Myanmar, Htet Htet has completed a Bachelor of Medical Science (Honours) at Queensland University of Technology. In her final year, she honed her research skills with Dr John Paul Tung in Lifeblood's Queensland laboratories. Htet Htet's research project examined how the storage of red blood cells can lead to changes in their clot-forming ability.
"I like that [Lifeblood] is supportive, collaborative and a really nice environment".
Ben Wood spent 2015 completing the practical side of his degree with Dr Lacey Johnson in Sydney, exploring changes in platelets as a result of cold storage, finishing his Master of Science (Honours) from the University of Technology, Sydney. He explains his choice to pursue research at Lifeblood, "The work we do here has a direct application. It's good to have that goal right there in front of you."
After several years as a research assistant with LIfeblood, Ben has now started research for his PhD within our Sydney Research team.
And Ben's culinary talents have been an unexpected asset to the Sydney team!