Facebook teams up with Lifeblood to launch new 'blood donations' feature on World Blood Donor Day
Facebook has announced a partnership with Lifeblood across Australia to help top up the nation's blood supply with much-needed new donations.
Launching as part of Lifeblood's National Blood Donor Week (14-20 June), Facebook's new Blood Donations feature has already helped over 100 million Facebook users sign up to receive notifications to donate blood globally, increasing blood donations around the world and helping maintain blood supplies during COVID-19.
The feature will allow those aged between 18 and 75 to sign up to receive updates on Facebook about giving blood, get notified about opportunities to donate at local blood donor centres and invite friends to donate. Facebook is promoting the feature by notifying people in their newsfeeds, or people can simply find it by searching "blood donations" on Facebook.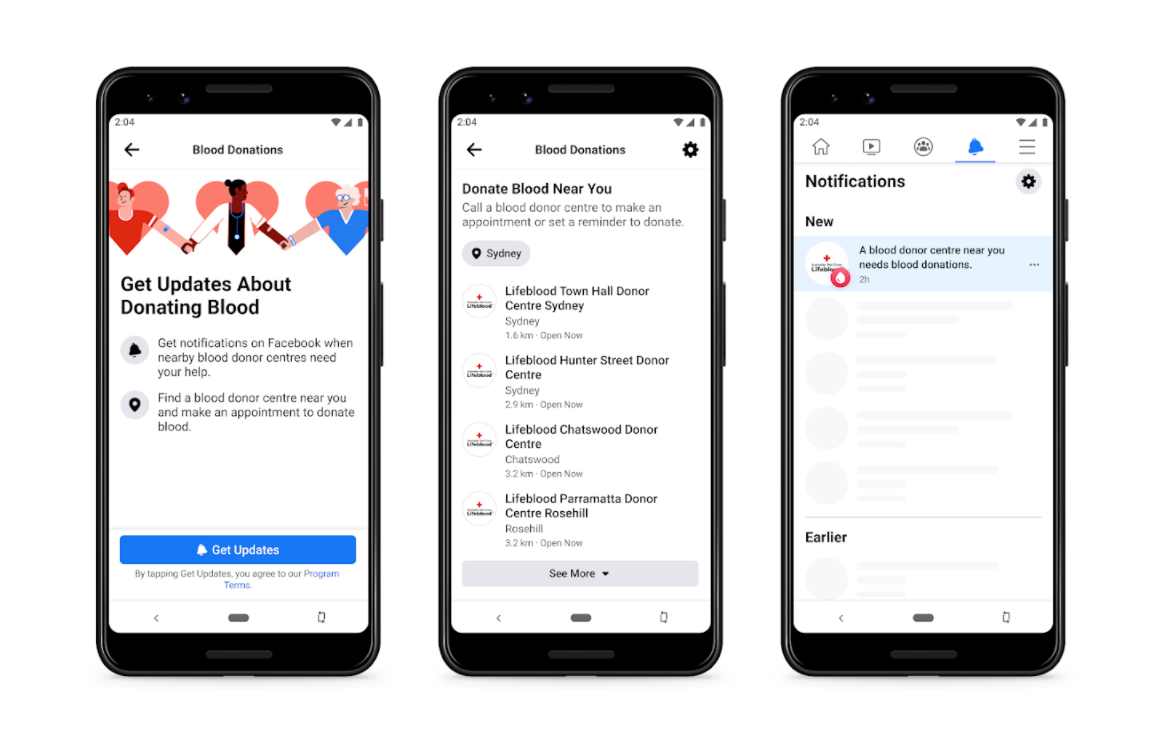 More than 33,000 blood donations are needed by Lifeblood every week to meet the needs of patients across Australia, and thanks to the generosity of the nation's blood donors, thousands of lives are saved every day. But with demand higher than ever, more donors are needed.
Currently most Aussie donors are aged over 45, which is why Lifeblood is seeking to recruit 'new blood' through Facebook's blood donation feature to help secure the next generation of long-term donors and secure the blood supply for the future.
Mia Garlick, Director of Public Policy for Facebook Australia and New Zealand, said: "The work undertaken by Lifeblood saves lives every day. The need for blood in Australia is ongoing, with one blood donation needed every 24 seconds and a new blood donor needed every 5 minutes. We want it to make it as easy as possible for our Australian community to donate blood and save lives, and within a few clicks you can sign up, be notified when your local donor centre needs more donors to book in, as well as encourage others to do the same.
"During the COVID-19 crisis, we've seen many Australians come together on Facebook to help each other, for example by offering to help others in Facebook Groups. This product launching today is another way Australians can come together and use our services to learn about how and where they can donate blood, no matter where they are in Australia."
Samantha Bartlett, Lifeblood's Marketing Director added: "We know Facebook is a great way to spread the message about giving blood and for people to encourage others to get involved as well, so we're excited about the blood donation feature.
"In Australia this means we're able to let people who have updated their profile know when a blood donor centre nearby needs their help.
"Over the last 12 months, with the rise of people working from home, people's donating habits have changed, so this is a great way for people to know when their 'new' local donor centre needs a helping hand.
"We're encouraging existing donors, former donors, and people who have considered donating but haven't gotten around to it yet, to update their status so we can reach them when we need it most."
People who sign up will be able to see requests and opportunities to donate blood  at over 76 donor centres on Blood Donations on Facebook on their mobile devices.