Financial Services Blood Challenge
Get your blood pumping
Are you ready for the Financial Services Blood Challenge?
It's set to be our biggest yet!
Just give blood or plasma between 1 December and 28 February to get involved.
Lifeblood Teams across the country are getting 'on their marks' to save the most lives.
In the past, this challenge has seen financial services around the country compete to save the most lives.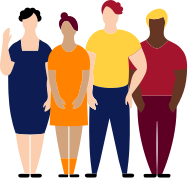 This year, we want to help more Aussie patients so we've made a few changes.
We're asking financial services to take part again, and we're opening the challenge up to the insurance and superannuation industries too.
It's going to be fierce, but you're not afraid of a little extra competition, are you?
Say hello to the new Financial Services Blood Challenge.
There are even more chances to win a spot on the podium. We're breaking the competition in two.
The Big Four banks (ANZ, CBA, NAB and Westpac) are in their own race, and for the first time, all other financial, insurance and superannuation organisations will compete against each other. That means there are more top spots up for grabs!
The award categories for both are:
Most donations
Highest member participation
Most new donors
Highest year-on-year growth
What's Lifeblood Teams?
Lifeblood Teams brings people together to save lives — they're made up of people, like you, who care about what's happening in the world.
Together, they're transforming the lives of thousands of Australians.
 
1, 2, 3, Give!
Register a blood donor account online if you don't already have one.
Join your Lifeblood Team by following the link in the top right corner after you've logged in—just search your team name below.
Book a donation and donate. Every donation you make goes toward our team's tally!
That's it. You can check in on the front runners throughout the challenge and see how you measure up.
Spread the word
This isn't a solo event—it'll take a team to win. Use these downloadables to help you recruit some teammates at work.
Find out more
For more information, or help with Lifeblood Teams, contact us online or call 1300 886 524.